The country's eSports scene continues to heat up in the final stretch to the eSports and Gaming Summit 2018 (ESGS 2018), the biggest gaming convention in the Philippines set on October 26 to 28, 2018 at the SMX Convention Center, Pasay City.
Presented by PLDT Home Fibr and Smart Communications, Inc., ESGS 2018 promises an epic gaming experience for eSports fans and enthusiasts as it features exciting exhibits, cosplay competition, fan games, and treats from PLDT Home Fibr and Smart's activity booths. 
ESGS 2018 will also host the much-awaited grand finals of the 'Road to the Nationals,' the nationwide tournament in search of the country's top DOTA 2 and Tekken 7 players.
 Over P1.5 million in prizes at stake
Hundreds of gamers flocked to the different legs of the 'Road to the Nationals' over the past weeks for a shot at snagging the championship title with over Php1.2 million worth of prizes for DOTA 2 and Php300,000 worth of prizes for Tekken 7.
The champions, along with other finalists, will also have a chance to be picked by the founding teams of The Nationals, the country's first ever eSports franchise model league that serves as a hotbed for Philippine representatives to major international eSports events. These founding teams include PLDT-Smart, Cignal, HappyFeet, Bren Esports, TNC Pro Team, and STI Holdings.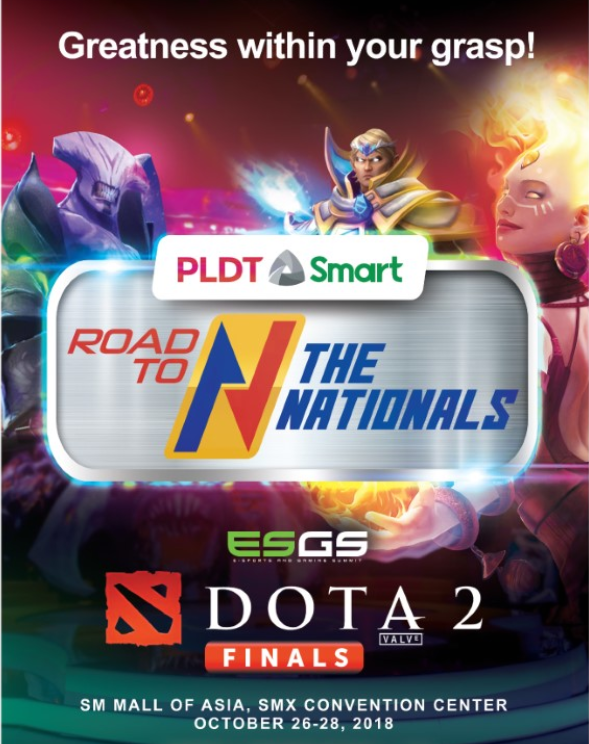 Final stretch to ESGS 2018
After grueling matches, among the DOTA 2 teams that have secured final spots to battle it out at ESGS 2018 include: TaskUs Titans representing Iloilo; Voyager (Bacolod); Quid Pro Quo (Manila); Sterling Global Dragons (Manila); and Davao's Pride (Davao).
On the other hand, among the Tekken 7 finalists competing at ESGS 2018 are: Francis Steven Valencia "UFTC Gogoy" Cabahug representing Cebu; Raymund Jay "Limitbreak" Sarte representing Cagayan de Oro; and Jade "ArkAngel.Janine" Yasay (Davao).
Gamers can join the next 'Road to the Nationals' regional qualifiers for DOTA 2 that is set on Oct. 13 at UGZ137 in Imus, Cavite, while the remaining Tekken 7 qualifiers will be held on Oct. 6 and Oct. 14 at Playbook-Makati, and on Oct. 13 at Secret Base-Marikina.
As part of the 'Road to the Nationals,' PLDT Home Fibr and Smart are also set to host the country's biggest Mobile Legends tournament soon.
Country's fastest fixed and mobile networks
Since 2013, both PLDT Home Fibr and Smart have been supporting the ESGS, in line with their push to elevate the local eSports industry and provide the ultimate gaming experience for Filipino gamers, fans, and enthusiasts.
Filipino gamers can enjoy lag-free gaming and seamless connectivity in the comfort of their home or on the go – powered by PLDT Home Fibr and Smart LTE, the country's fastest fixed and mobile networks according to the world-renowned Ookla Speedtest Awards.
PLDT Home Fibr is perfect for multi-player and bandwidth-intensive games like DOTA 2, because it can go as fast as 1 Gbps and enables equal upload and download speeds so gamers can definitely enjoy a seamless experience.
On the other hand, gamers can level up their gameplay and power moves on top mobile games like Mobile Legends, Clash of Clans, and Clash Royale with Smart GameTime 100, which offers up to 300MB per day valid for 30 days for only Php100.
Catch the country's biggest eSports battles
Be sure to catch the country's best players make their biggest moves at the 'Road to the Nationals' finals at ESGS 2018! Get your tickets now atwww.smtickets.com.
Watch out for more surprises from PLDT Home Fibr and Smart by following their official Facebook accounts at (www.facebook.com/PLDTHome) and (www.facebook.com/SmartCommunications).
For updates on the 'Road to the Nationals' and ESGS 2018, also check out PLDT and Smart's official Twitter and Instagram accounts at (@PLDTHome) and (@LiveSmart).