More than 250 students from 6 public schools in Pasig, Makati, Baguio and Albay recently graduated from Manulife Philippines' Peso Smart X RecoveREADS, a financial literacy program run in partnership with Corazon S. Atayde Memorial Foundation (CSAMF), a non-profit organization that seeks to provide Filipinos with opportunities to be lifelong learners through literacy.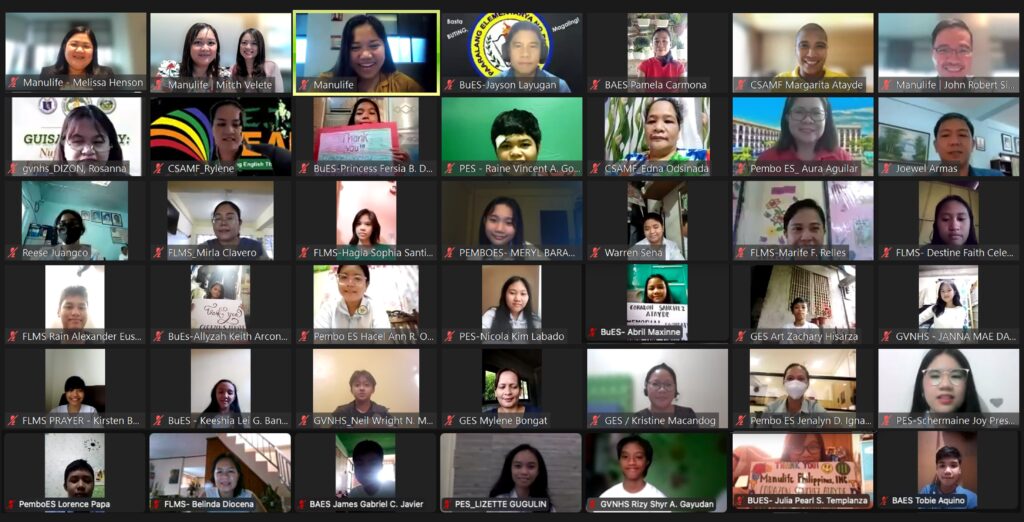 Schools include Bambang Elementary School, Buting Elementary School, and Francisco Legaspi Memorial School in Pasig; Pembo Elementary School in Makati; Guisad Valley National High School in Baguio; and Gubat Elementary School in Albay. This is the first time Peso Smart has been taught outside Metro Manila, producing the biggest batch of graduates since Peso Smart's inception in 2017.
"We are proud that our newest batch of Peso Smart graduates have shown great progress in their learning journey, as well as the enthusiasm and commitment to build sound financial management skills at this early age. It is an honor for us to help champion financial literacy, and empower young Filipinos through financial education," said Melissa Henson, Chief Marketing Officer, Manulife Philippines. "We at Manulife are committed to further expand our Peso Smart x RecoveREADS program, guiding future generations to make informed financial decisions that can help them achieve their goals and live every day better."
Also present at the graduation were Margaux Atayde, CSAMF Executive Director; and various principals and teachers who led the program in their respective schools. Local government unit officials who helped mount the Peso Smart x RecoveREADS program in their respective municipalities, including Honorable Armando B. Romano, Mayor, Municipality of Bacacay, Albay; Honorable Benjamin Magalong, Mayor, Baguio City; and Honorable Vico Sotto, Mayor, Pasig City, also sent congratulatory messages to mark an important milestone in their financial literacy efforts through Peso Smart x RecoveREADS.
Peso Smart is Manulife Philippines' award-winning financial literacy program that supports the initiatives of the Department of Education to expand and improve the financial literacy aspect of the K-12 curriculum. Peso Smart was first launched in 2017 as a series of face-to-face classes, teaching basic savings, budgeting and investment skills to public elementary school students. During the pandemic, Peso Smart shifted to remote learning and was also extended to universities, as well as parents and teachers, to continue delivering on its goal on inclusive economic opportunity through financial transformation. Since 2017, more than 400 students have graduated from the Peso Smart program.