OPPO has made an announcement that it will be releasing its first clamshell foldable phone, the Find N2 Flip, which will be among the first smartphones in the world to receive the new Google Android 14 Beta 1 update. Early-adopters and developers can access the developer's version of ColorOS, which has been built around the first beta of Android 14, and experiment with new features and APIs on their OPPO flip phone.
Android 14 provides a range of updates that will enhance productivity, performance, privacy, security, and user customization. It features more intuitive system user interfaces, such as the new mid-display back arrow and an improved system share sheet. The system also allows apps to limit visibility of specified views only to accessibility services to strengthen users' privacy. Foldable devices present an opportunity for innovative app development, and developers are encouraged to utilize Android APIs, tools, and resources provided by Google to design apps for large and small screens.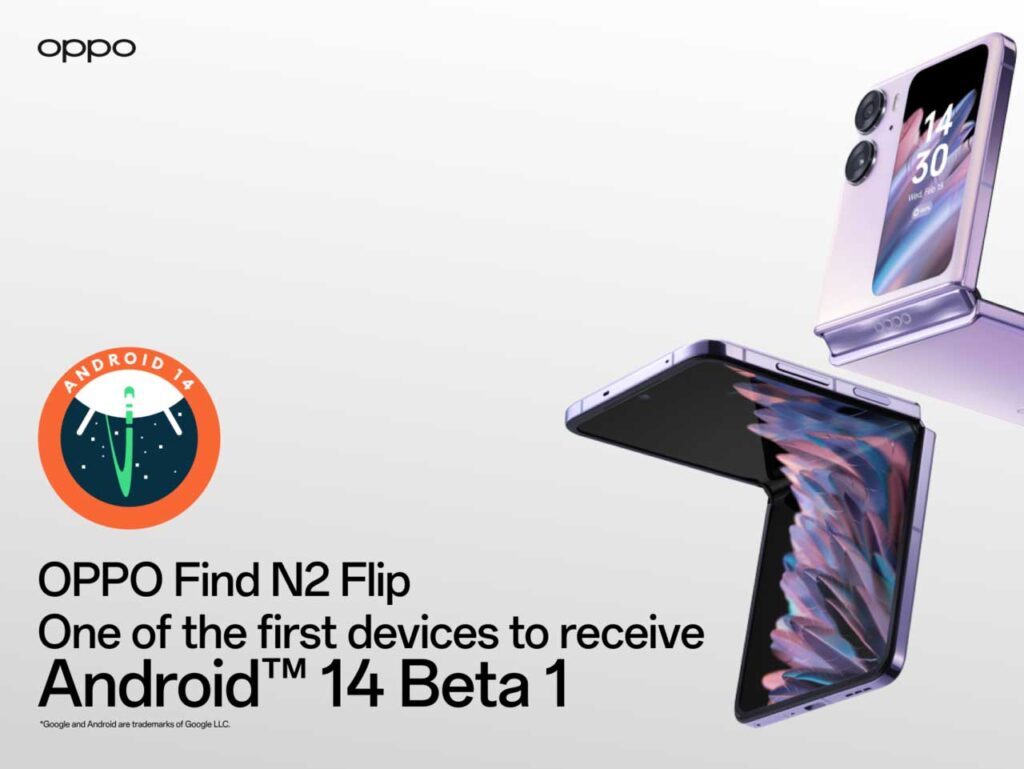 "OPPO Find N2 Flip sets a high bar for new flip smartphones. We have combined industry-leading engineering and innovation with intuitive design principles to create Find N2 Flip." said Peter Dohyung Lee, head of the flagship product line at OPPO. "Cooperating with Google, OPPO recently brought the Speech-to-Text feature to the cover screen of Find N2 Flip. Further with Android 14, we will continue to take foldable phones to new heights by combining cutting-edge hardware with unparalleled software."
The Android 14 Beta 1 update will be available for the OPPO Find N2 Flip, which was launched globally in February 2023. The OPPO Find N2 Flip has one of the largest cover screens of its kind, the most invisible crease with its New Generation Flexion Hinge, a day-long battery life with SUPERVOOC flash charging, and a promise of four major ColorOS updates and five years of security updates for its global users.
Developers can download the developer's version of ColorOS built around Android 14 Beta 1 here right now. Later this year, Find N2 Flip global users can look forward to enjoying the public version of ColorOS based on Android 14.