The Mobile Legends: Bang Bang Southeast Asia Cup (MSC) 2022 starts tomorrow with twelve (12) competitive teams that will dominate the region. The most-anticipated matches will be held at Malaysia International Trade and Exhibition Centre (MITEC), the biggest local exhibition center.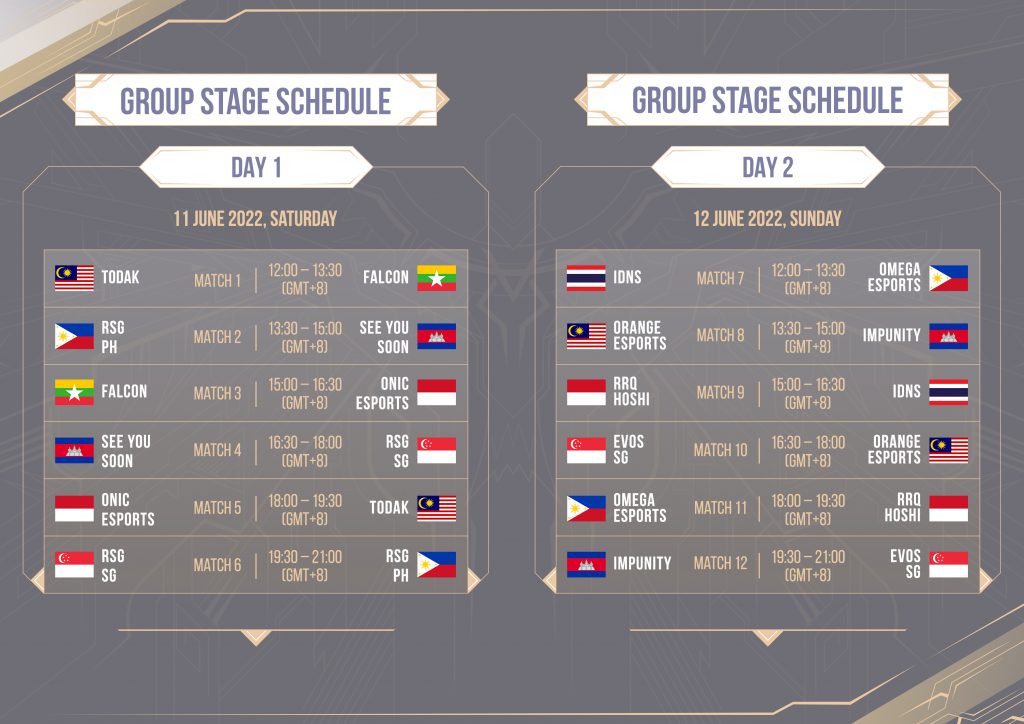 With the theme #SupremaSEA, this year's MSC celebrates esports supremacy by bringing the top Southeast Asian athletes together to become the regional authority in the Mobile Legends: Bang Bang (MLBB) competitive field. Watch the official theme song here:
The competition commences with Group Stage scheduled this weekend as follows:
Playoffs will commence from 14-19 June. Qualifying teams will once again be drawn randomly and undergo a double elimination process.
Welcoming the return of offline tournaments

Local Mobile Legends: Bang Bang esports fans have been clamouring for the return of offline LAN, with ticket sales sending a clear signal; the MSC 2022 grand finals tickets were quickly sold out within three days, with gold tickets being snapped up quickly within the first day of release. Those who wish to watch the playoff matches can still purchase via the Ticket2u or on-site.
Fans can choose between a Gold or Silver ticket, with the corresponding freebies:
Ticket prices vary based on the length of each match, from the best of three (BO3) to seven (BO7) series.
Malaysian fans can stand a chance to take home a limited-edition MSC 2022 Secretlab chair exclusively signed by the MSC Finals MVP! Simply head to the MPL Malaysia Facebook and Instagram page, and share which MSC 2022 team is their favourite. For more details on the giveaway and announcement of the winner (on 20 June), please refer to the official MPL Malaysia pages.
Get to know more about MSC 2022 through the official website or follow the social media channels below:
YouTube
MLBB-Esports (English): https://www.youtube.com/c/MLBBeSports
MLBB-Esports (Filipino): https://www.youtube.com/c/MLBBeSports
MLBB-Esports (Cambodian): https://www.youtube.com/c/MLBBeSports
MLBB-Esports (Malay): https://www.youtube.com/c/MLBBeSports
MLBB-Esports (Thai): https://www.youtube.com/c/MLBBeSports
MLBB-Esports (Bahasa): https://www.youtube.com/c/MLBBeSports
MLBB-Esports (Burmese): https://www.youtube.com/c/MLBBeSports
Facebook
MLBB-Global (English): https://www.facebook.com/mobilelegendsgame
MLBB-Esports (English): https://www.facebook.com/MLESPORTS/
MLBB-TH (Thai): https://www.facebook.com/MobileLegendsGameTH
MLBB-KH (Cambodian): https://www.facebook.com/MobileLegendsGameCambodia
MLBB-MM (Burmese): https://www.facebook.com/MobileLegendsGameMyanmar/
MPL-SG (English): https://www.facebook.com/mpl.sg.official
MPL-PH (Filipino): https://www.facebook.com/mplph.official
MPL-ID (Bahasa): https://www.facebook.com/mpl.id.official
MPL-MY (Malay): https://www.facebook.com/mplmy.official/
TikTok
MLBB-Global (English): https://www.tiktok.com/@mobilelegendssgofficial?lang=en
MLBB-PH (Filipino): https://www.tiktok.com/@mobilelegendsphofficial
MLBB-MY (Malay): https://www.tiktok.com/@mobilelegendsmy?source=h5_m
MLBB-SG (English): https://www.tiktok.com/@mobilelegendssgofficial?lang=en
MLBB-ID (Bahasa): https://www.tiktok.com/@mobilelegends_id?lang=zh-Hant-TW&is_copy_url=1&is_from_webapp=v1
MPL-PH (Filipino): https://www.tiktok.com/@mplph_official
MPL-MY (Malay): https://www.tiktok.com/@mplmy?lang=en&is_copy_url=1&is_from_webapp=v1
MPL-SG (English): https://www.tiktok.com/@mplsingapore
MPL-ID (Bahasa): https://www.tiktok.com/@mpl.id.official?lang=zh-Hant-TW