The first device revealed to the anticipating crowd during the Samsung Unpacked 2019. The Samsung Galaxy Fold is a new foldable device creating a new mobile category. It features the world's first 7.3-inch Infinity Flex Display, which folds into a compact device with a cover display. Galaxy Fold offers a powerful new way to multitask, watch videos, play games, and more – bringing to life new experiences and possibilities years in the making.
It is a smartphone that transforms into a tablet that is perfect for the multi-tasker in you.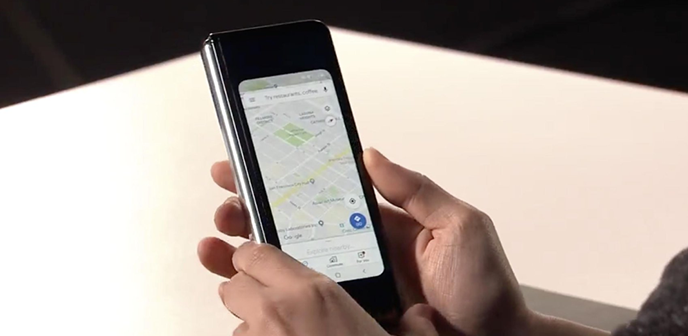 Users now have the best of both worlds; a compact device that unfolds to reveal Samsung's largest-ever smartphone display. Galaxy Fold brings together material, engineering and display innovations, developed over eight years following the debut of Samsung's first flexible display prototype in 2011.
Here are the things to remember with the Galaxy Fold, Samsung's Luxury Phone:
New Display Materials: The internal screen does not merely bend. It folds. Folding is a more intuitive motion, and a more difficult innovation to deliver. Samsung invented a new polymer layer and created a display around 50 percent thinner than the typical smartphone display. The new material makes Galaxy Fold flexible and tough, built to last.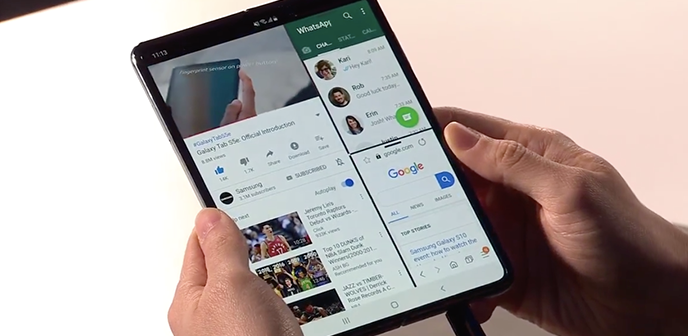 New Hinging Mechanism: Galaxy Fold opens smoothly and naturally, like a book, and closes flat and compact with a satisfying click. To achieve this, Samsung engineered a sophisticated hinge with multiple interlocking gears. This system is housed in a hidden enclosure for a seamless and elegant look.
New Design Elements: From the screen to the housing, to every element you can see and touch – Samsung left no stone unturned. The fingerprint scanner is found on the side where the thumb naturally rests, so the device unlocks easily. Two batteries and the components are evenly distributed so Galaxy Fold feels balanced in your hands. Colors with unique finishing—Space Silver, Cosmos Black, Martian Green and Astro Blue 1 —and the engraved hinge with Samsung logo complete its elegant fit and finish.
And for the multi-taskers where you can open more than two windows at the same time where you can do more just doing a call while texting or opening a website/social media.
The unique UX built just for Galaxy Fold provides new ways to get the most out of your smartphone:
Multi-Active Window: The possibilities are virtually endless with Galaxy Fold – designed for the ultimate multitasker. You can open up to three active apps simultaneously on the main display so you can surf, text, work, watch and share without losing a beat.
App Continuity: Make intuitive, seamless transitions between the cover and the main displays. As Galaxy Fold opens and closes, apps will automatically show up where you leave off. When you're ready to take a photo, make in-depth edits, or have a closer look at the feed, open the display for a big screen and fuller canvas.
And you can still do more with Samsung Galaxy Fold because of the features it will surely require full packed hardware to process it. It runs smoothly, even when running three apps simultaneously, Samsung equipped Galaxy Fold with a high-powered, next-generation AP chipset and 12GB of RAM with PC-like performance. The sophisticated dual battery system was specifically engineered to keep up with you. Galaxy Fold is also capable of charging itself and a second device simultaneously via Wireless PowerShare, while connected to a regular charger so you can leave your second charger at home.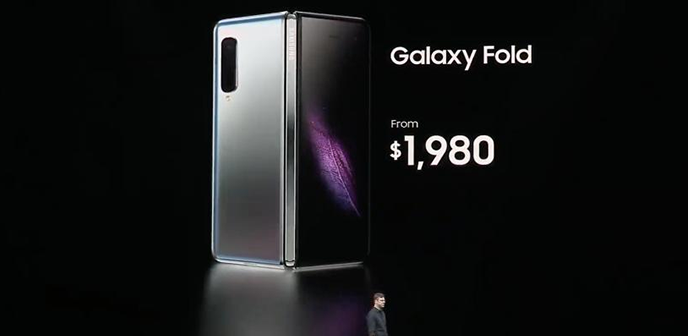 Lastly, a Samsung device will always require a good camera. The Galaxy Fold has a versatile camera where you can hold—or fold—the device, a camera will be ready to capture the scene, so you never miss the moment. With six lenses—three in the back, two on the inside and one on the cover—the Galaxy Fold camera system has flexibility built in. Galaxy Fold introduces a new level of multitasking, allowing you to use other apps during a video call. It has total of 6 camera (10MP Selfie Cover Camera, Rear 16MP Ultra Wide Camera, F2.2 12MP Wide-angle Camera, Dual Pixel AF, OIS, F1.5/F2.4 and 12MP Telephoto Camera, PDAF, OIS, F2.4, 2X optical zoom and lastly front dual camera 10MP Selfie Camera, F2.2 and 8MP RGB Depth Camera, F1.9).
It has 4,380mAh battery and running on Android 9.0 (Pie).
The Galaxy Fold will cost US$1,980 and will be available by April 26.