From October 16 to January 31, 2018, enjoy discounts of up to 25% when you buy Samsung Digital Appliances at any Samsung authorized dealer. The good news doesn't end there. Apart from premium appliances, Samsung's Merrier Christmas Deals offers you the chance to earn as much as P7,000 worth of gift certificates from over 20 partner establishments including Spiral at the Sofitel Philippine Plaza, Bluewater Resorts in Sumilon, Maribago, and Panglao, Belmont Hotels and Resorts, Zoobic Safari, Max's Restaurant, and Kenny Rogers Roasters when you purchase select models.
Samsung Digital Appliances are great investment pieces and are equipped with pioneering technologies that guarantee to take your homemaking experience to the next level. They are designed with innovative features that deliver convenience and flexibility to your home. More than just appliances, they are reliable life partners that ensure your family gets the best care, and now you can easily purchase one of your own.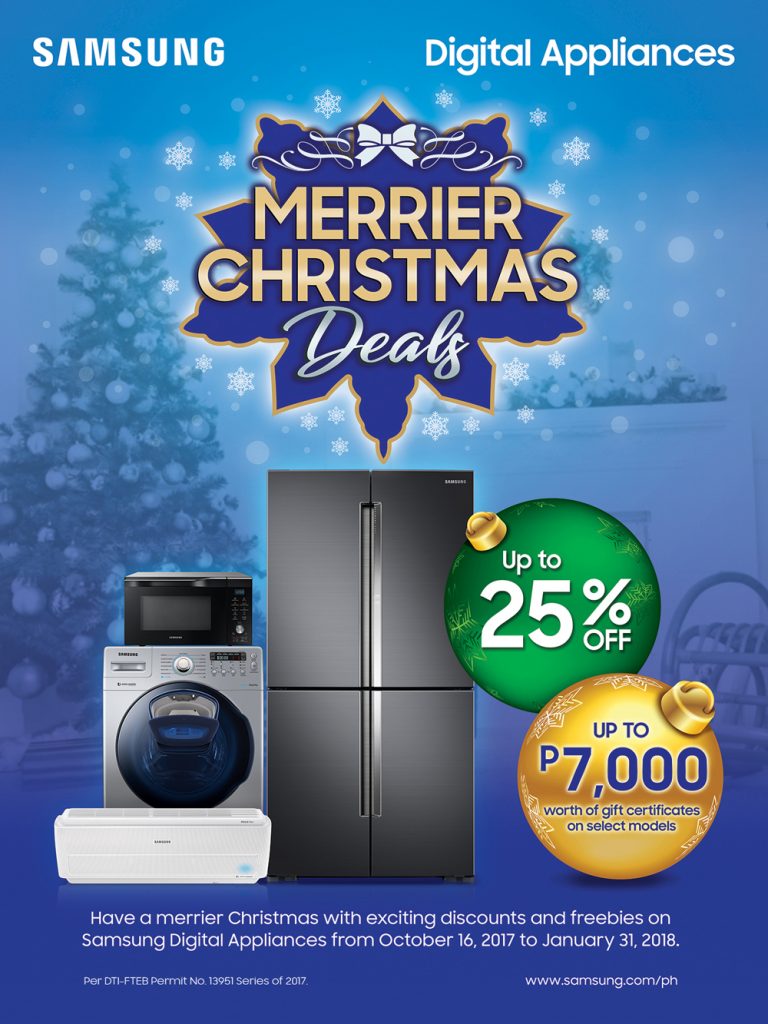 Digital appliances of Samsung included in the Merrier Christmas Deals are the award-winning Samsung Wind-Free™ Air Conditioner is designed for a comfortable level of coolness without the unpleasant feeling of direct cold drafts so you can stay comfortably cool with your loved ones at home. There is also the highly-efficient AddWash Front Load Washing Machine affords you more time for moments that matter through its speed-washing and deep-cleaning settings, which cut down your laundry time without ruining your clothes' quality.
Also included is the beautifully designed Samsung French Door Refrigerator maximizes storage capacity with expandable compartments and saves up to 46.9% energy with its Digital Inverter Technology. The state-of-the-art Samsung Smart Oven, meanwhile, is equipped with the Hot Blast™ technology feature, that uses multiple air-holes that blow hot air onto your food.
The Samsung Digital Appliances Merrier Christmas Deals promo is available to all Samsung authorized dealers nationwide. To know more about the promo visit http://www.samsung.com/ph/offer/merrierchristmasdeals.