When we are talking about Philippine treasures and cultures, it is hard not to include the living treasure and that is the last mambabatok (traditional Kalinga tattooist) from the Butbut people in Buscalan Kalinga – Whang-od Oggay or simply Whang-Od.
Known as Apo Whang-Od to everyone is recognized as the oldest tattoo artist in the Philippines. She will be in the 66th edition of Manila Fame that will happen at the World Trade Center on October 20-22.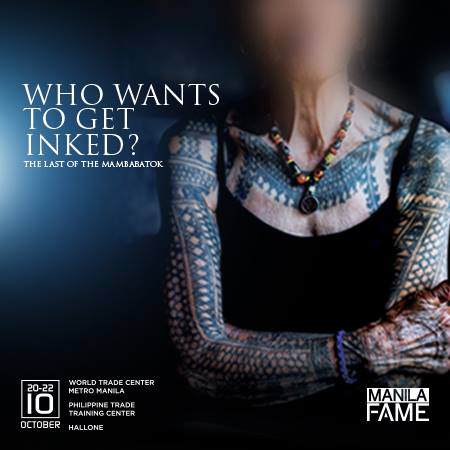 Apo Whang-Od will be joined by her nieces who will be doing the traditional tattooing the mambabatok way.
Catch them along with the Filipino artists that make Philippines known worldwide. Visit the links below:
BUYER – https://goo.gl/eZNRJ6
VISITOR – https://goo.gl/onxaEd
Visit Manila Fame official Facebook Page for more info.